BLAST PAST YOUR FUNDING GOAL WITH
YG ADS
GENKI SHADOWCAST
$1,931,677

When you look at all those mega campaigns on Kickstarter, do you ever wonder "how do they do it!?"
The answer is simple, highly efficient Facebook ads from YG.

All these projects you see here work with YG to run their ads and drive pledges worth millions of dollars.
If you're starting or running a Kickstarter campaign, scroll down to find out how we can do the same for you.
Kickstarter doesn't support the Facebook Pixel, even though it is an essential tool for digital marketing. Without the Facebook Pixel you can't run efficient ads that measure if they drive pledges or not. Which is why many Kickstarter creators hire agencies to run their ads.

But what is it that agencies can do that you can't?🤨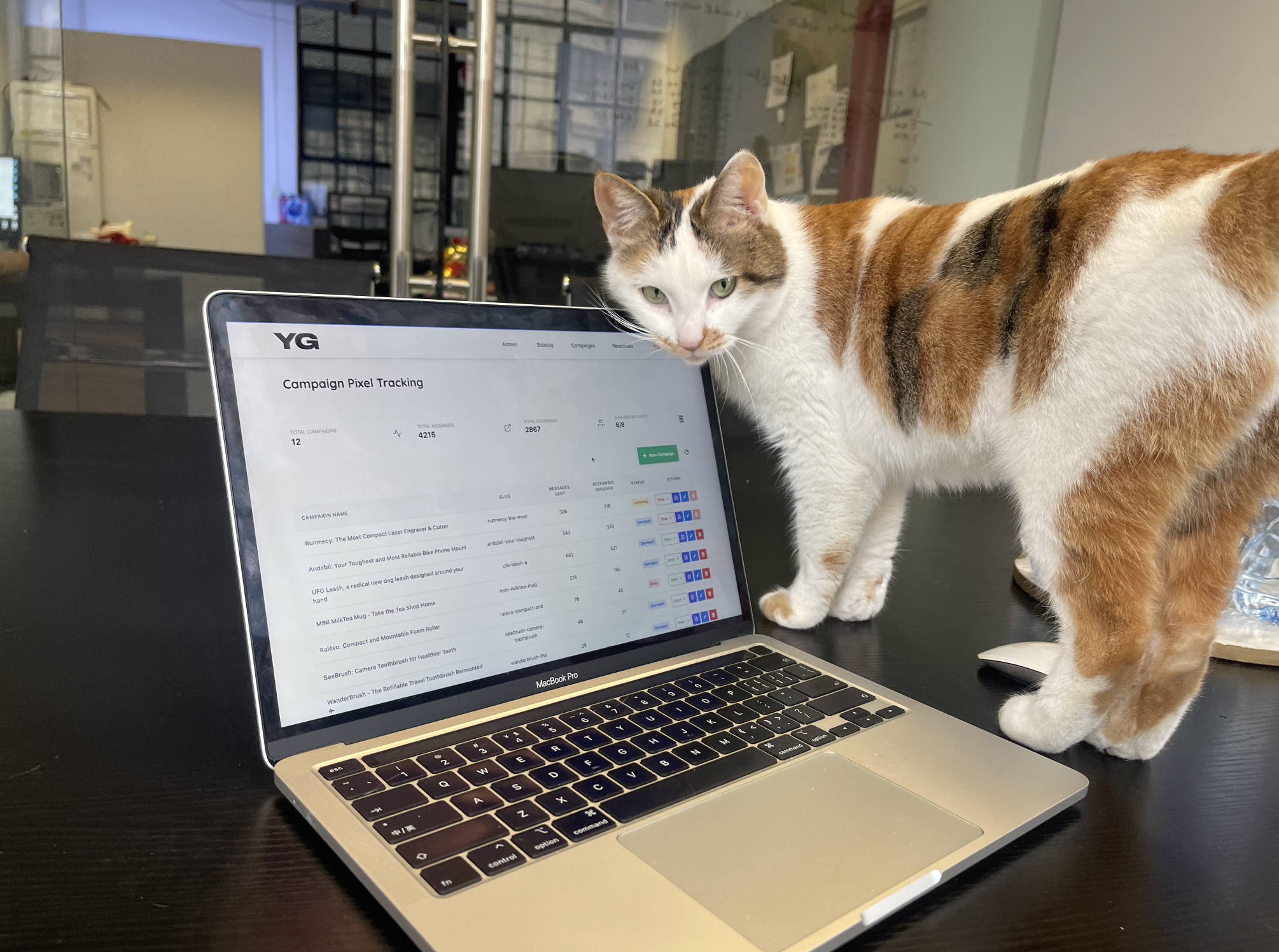 No, it's not our lovely office cat, it's
YG's proprietary Pixelated survey sender.
Our unique system automatically sends a message to each of your backers containing a Pixelated link. When you backers click it, they are matched to the people who viewed your Facebook ads, and you'll see exactly how your ads perform, including how many backers came in through each individual ad or adset, and even how much they pledged.

Our system is iOS14-proof by using the Conversions API and has the most accurate data and response times in the industry
Sign up with YG and let us know about your campaign goals and budget. You can dynamically adjust your ad spend day by day, and stop anytime.
Provide details about your Kickstarter page and Facebook Pixel, and our system will start firing your Pixel to your backers.
Our team of Digital Marketing professionals will run ads for you, and we can even help you run your own ads on our system.
Running a crowdfunding campaign is hard enough without also managing digital marketing. That's why our team of Facebook Blueprint certified ads managers can do the heavy lifting.
Once your Pixel is set up, you can engage YG anytime to run ads for you. You just give us your daily budget and goals, and our team will flexibly run ads which you can monitor in a private dashboard. Managed ads can be started or stopped anytime within 24 hours and you can run your own ads with the Pixel the entire time.
Our ads and software are extremely efficient and flexible. Just set your overall budgets and targets, and we'll dynamically adjust our ads to match your targets.
If you're a pro with Facebook ads yourself, we'll even share our tools with you so you can run your own ads in addition to ours, and we don't charge commission on those earnings.
Getting started with YG is straightforward and affordable. We charge a one-time $499 setup fee which goes towards building creatives, setting up the accounts and linking your Kickstarter to our Pixel software.
After that, we only charge a low 15% commission over sales attributed directly to YG ads. We don't charge over anything not attributed to our traffic, so you keep more funds in your pocket.
Don't just take it from us, here's what creators say
"George and the YG team are an incredible asset to any company and campaign. They have gone far out of their way to help us scale up a multi-million dollar Kickstarter, and have worked very closely and personally with me to help it succeed. Their attention to detail, willingness to solve any problem, thoroughness of feedback and patience to teach their clients make them invaluable. I would highly recommend them to any campaign looking to scale to 7 figures and beyond!"
Conor B Lewis, Founder of FORT
"During the last week of our campaign we decided to have a full on battle royale amongst our partners and YG came out with the strongest ROAS and getting setup in record time."
Eddie Tsai, Founder of Genki
"YG has helped us achieve great results with minimal ad spend on our campaign. We tried other agencies, but their Pixel integration works like magic and is better than anything else."
Lauren Pan - ZimaBoard
"It's been fantastic working with YG. We were completely new to Crowdfunding and George and his team gave us great advice on shaping our crowdfunding page and achieved incredible results on a paid ads campaign. We sailed past our fundraising goal and this wouldn't have been the case had it not been for a very easy and communicative relationship with George and the team at YG.""
Paul Jessop - AVA
FREE CAMPAIGN OPTIMIZATION SCAN
See how your campaign's performance can instantly be improved. Just submit the link, and within 24 hours you'll receive valuable insights from our campaign team, all free.